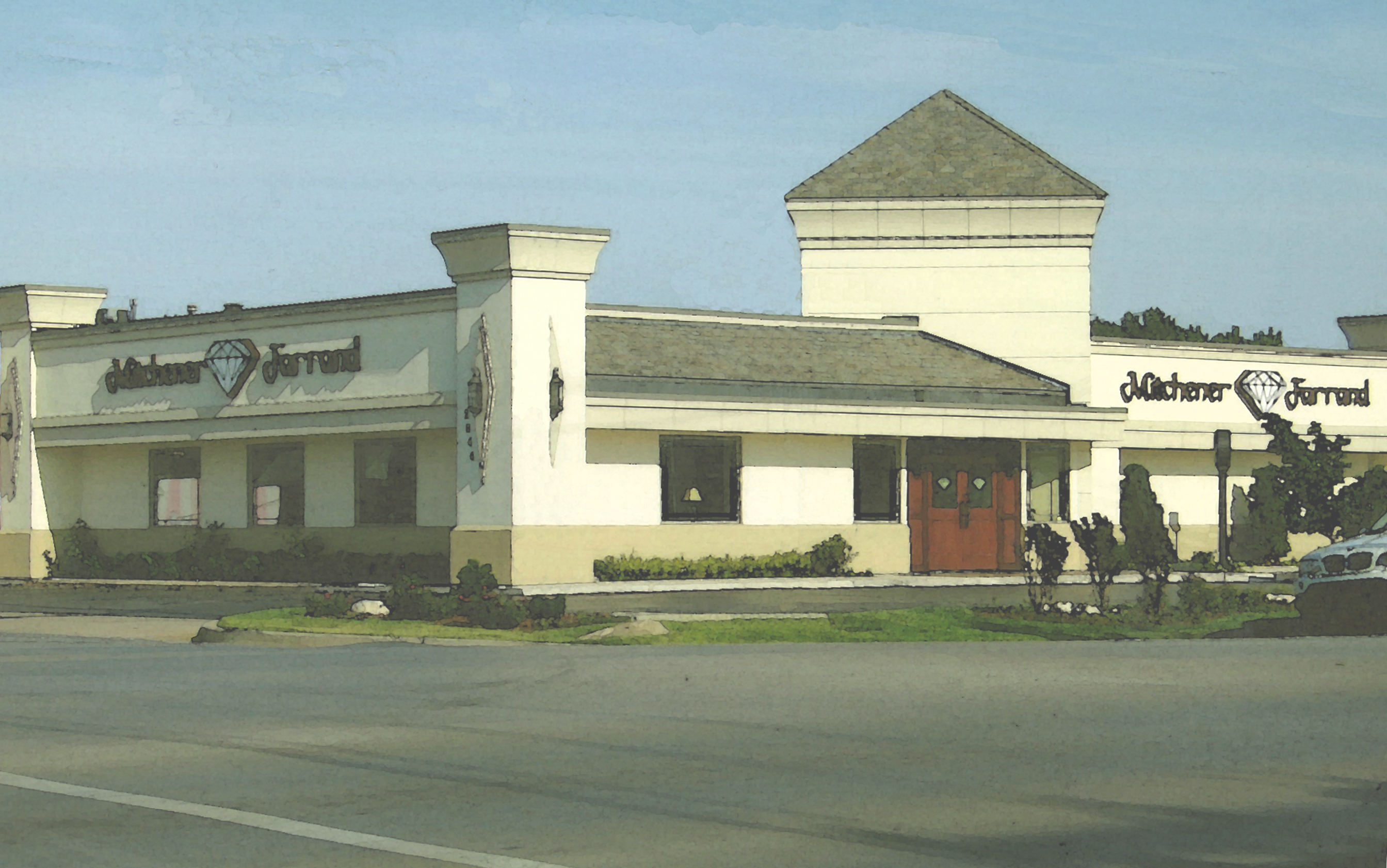 ABOUT
Mitchener-Farrand Jewelers
"The Jewelry Guys on May"
---
As the sole owner of Mitchener Farrand Jewelers, Mark Mitchener has a long family history that runs deep in the jewelry industry.
Mark's great-grandfather was a watchmaker, who was very talented at his craft. He was asked to move to Russia to open a factory and teach young Russians the watch making trade. As enticement, the Russian (government?) gave him a large house on extensive land that had a full service staff. Eventually he fell in love with and married a local Russian girl. Life was exciting in a new country, but the peace would not last.
During some political unrest in the late 1800's Mark's great-grandfather secretly gathered his family and quickly left the country. The family eventually settled in Kansas City where they prospered and eventually had five jewelry stores in the area. Due to the Great Depression all of these stores eventually closed.
By this time Mark's grandfather had been born and was beginning his journey as a diamond salesmen for a New York diamond distributor. He travelled extensively selling diamonds of all shapes and sizes to independent jewelry stores. These were the days before a standard had been created for diamond grading so tradesmen had to be experts and extremely knowledgeable by sight and weight.
This is where Mark found his love of jewelry, but especially his love of diamonds. In 1980, after attending and getting certified as a bench jeweler in Paris, Texas, Mark joined with Dave Farrand to open their own trade-shop in the basement of a building at 50th Street and May Avenue in Oklahoma City.
They were a successful trade shop, but they wanted to work more with people and use their talents to custom create jewelry. So they began small with 8 gold chains they hung from a ceiling display Mark had made by hand. The chains sold and the money was used to buy more chains until finally they needed their first 8 foot display case.
As their custom business grew and they were able to invest in more designer jewelry, they outgrew the basement. In 1987 they moved up to street level and opened shop at North May & Grand Boulevard. For 18 years they were "The Jewelry Guy's on May" and built a solid and loyal customer base that just kept growing. So in 2005 they renovated and moved into the old Trust House jewelry store that had been closed for several years.
During these transitions in the store location and size, Mark was also on a personal journey of discovery. Looking at the traditional round cut diamond Mark knew there had to be a better facet arrangement that could unleash more light and showcase the true brilliance and sparkle in every diamond. In 2009 his hard-work finally paid off and he perfected his design that enabled the round cut diamond to reflect maximum shine and become the brightest diamond in the room! Its name is the ForeverAfter.
Mark had originally created the ForeverAfter just for the Mitchener Farrand Jewelers store, but after consulting with his close friend, who owns the largest diamond distributing company to independent jewelry stores in the United States, they decided to partner up.
The ForeverAfter is now sold all over the world, but Mitchener Farrand Jewelers is the only place in Oklahoma where you can purchase one.
In 2013, Mark also got his patents for the oval ForeverAfter and the cushion ForeverAfter.
As all the diamond excitement was in full swing, the company began another transition. Mark's long-time business partner, Dave Farrand, decided to retire.
Today Mitchener Farrand Jewelers has a 4,000 square foot store filled with gorgeous and unique jewelry. Our location may have changed over time, but some things never change like our level of service. Our company motto is "Everyone is Someone" and we hold true to our belief that service doesn't start after you purchase or end when you walk out the door. It begins when you walk in the door and has no end. We don't want to meet your expectations, we intend to exceed them!
Monday: Closed
Tuesday: 10:00 am – 6:00 pm
Wednesday: 10:00 am – 6:00 pm
Thursday: 10:00 am – 6:00 pm
Friday: 10:00 am – 6:00 pm
Saturday: 10:00 am – 5:00 pm
Sunday: Closed